A wise man once told me that the days you remember most in life are the days that were all about the suffering in the quest to attain a goal that most people would consider insane. At least I think I remember someone telling me that once, perhaps I made up the wise man and the quote in the suffering-induced delirium that was yesterday. I certainly think that suffering brings out the best in people. Certainly, finishing something as grand of an adventure as the American River 50 Mile Race is something that few can conceive of, yet it is something totally attainable with the right attitude and proper training.
Way back in October, I thought it might be fun to train for and run a 50 mile race. Looking at the calendar of upcoming races, the AR50 seemed to make the most sense, as it was far enough away for me to train for. And it was far enough in the future that I had enough time to get ready for it, and not really think about it too much.
It wasn't until January that I really started to do heftier mileage. I managed to squeeze in two races: The Pacifica 30k trail race (brutal course!) and the Kaiser San Francisco Half Marathon (finished in 1:49). After that, I managed to get in some long runs, until early March when I caught the bug that had been going around school for a few weeks. That left me unable to do much quality training for a few weeks. I still wasn't feeling 100% the day before the race!
Joan and I drove up to Sacramento on Friday afternoon, detouring through Oakland to pick up her new bike from Jason. We had to bypass our traditional pre-ultra trip to Olive Garden, as the wait was way too long. We at at Chili's instead. As it turns out, chicken fajitas are a great pre-race meal. Throw in the chips and guacamole and you've got fuel for a 10+ hour run!
I thought I was going to have one of those fitful nights of sleep; but it only took a few minutes from when my head hit the pillow in the Motel 6 for me to drift off into a solid 6 hours of sleep. I still managed to wake up 15 minutes before my alarm, at 4:15. So I got up and began my preparations.
We headed out around 5:00, stopping at the Starbucks for some caffeine and a pastry. Well wouldn't you know, it the delivery truck that brings the pastries had broken down. Of all the mornings for that to happen! So I had a banana with my coffee. And we headed off to the race start by the Guy West Footbridge at Sacramento State University.
Milling around with hundreds of other crazy people before dawn is always an experience. Everybody knows what they are about to do, and some people seem to just focus on what they are doing and others just try to keep their mind off of it. I'm certainly closer to the latter. The only way I can get my mind through these events is to not think about what I'm doing, aside from watching where I'm going and keeping the knowledge of how far I've gone and how far I've got to go somewhere just below the surface where I can think about it if I need to.
About five minutes before the gun went off, the reality of what I was about to do finally hit me with full force. What had I signed up for? It was certainly an emotional moment, many years in the making…
When I was a kid, my biggest dream in life was to one day run the Western States 100 Mile Race. I used to watch every year when ABC's Wide World of Sports would televise it. I dreamt of being able to cross that finish line on the Placer High School track in Auburn. Funny thing: these days, just to qualify for Western States, you have to run a 50-miler in under 11 hours. And after that, you have to enter a lottery, and then only have about a 10% chance of getting in. And that qualification is only good for the next year's race.
I just wanted to hold onto Joan and wake up from the dream. But it wasn't a dream… I was really about to embark on a 50 mile run. This is one of those days, one of those moments that stays with you forever. Especially if you succeed.
From the beginning, I was was feeling good. I didn't feel like I had been sick off and on for the past month. I just felt ready to run, like my body was releasing the energy stored up from the two+ weeks of tapering. I felt good. The first few miles of the run were pretty quiet. There was a nervous anticipation among the runners, and no one really seemed to want to say it.
I cruised along averaging 9:10 to 9:30ish for the first 13 miles or so. I managed the first quarter of the run in under 2 hours. Obviously, there's no way I could have held that pace! I'd already run back to back 57 minute 10Ks! I saw Glenn early on in the run. He passed me twice: once near the start and another time after he stopped at a restroom next to the trail. He was looking strong and just cruising: he ended up finishing in 7:57.
I ran a bit with Brandon early on as well. I saw Joan around mile 15: she had driven out to Beals Point and ridden back down the trail. She couldn't support me (except at aid stations), but she could certainly spectate and take pictures and video. It was great to have her out there for the emotional support.
I began to have a cramping issue somewhere around 16 or 17 miles into the race. I took one weird step, and my calf practically seized. I spent the next few hours trying to work that out. By the time I did, it barely helped as my quads and feet were screaming at me by then, but more on that later…

From 20 to 27 is sort of a blur to me. A blur of running mixed with walking. I was just hoping that I could keep myself together. I was resigned to the fact that it wasn't going to be easy, but also resigned to continue to the finish. I decided that the only way I wasn't going to finish was if they had to peel me off the ground. So I kept going. This event was turning into an outstanding mental training exercise!

Coming into Beals Point, I just wanted to collapse. But I still had 23+ miles to go! I sat on a rock and changed my socks. Joan kept encouraging me to keep going. And that certainly helped a lot! Leaving Beals, it was going to be a long ways around the west/north side of Folsom Lake.
After running along the top of the dam, the route turned onto the trails around the lake. The area was beautiful, but the trails were fairly tough given the mileage already in my legs. I settled into a routine of walking the steeper uphills and running the flats and downhills. I just had to keep going as well as I could.
This is also where the more social aspects of ultrarunning take over. Everyone seems to look after everyone else. Everyone is in the same boat, suffering and just trying to persevere. People chat about everything from what ultra they're going to do next (I'm not making this up!) to what they're going to have for dinner.
Everyone out on the trails seemed very supportive of the race: whether they knew what was going on or not. One of the greatest sources of amusement all throughout the run was watching the look on people's faces when answering the question, "How long is your race?" Most people just can't fathom what it takes to do something like run 50 miles in a day.
The aid stations were well run, and they had just about everything you could want during one of these races (except perhaps a cold beer and a burger). It's amazing the support that people give. Hopefully they all understand how much we appreciate their efforts. It's not always easy to say so when you're suffering so intensely.
It was especially nice that Joan, despite her New Year's Resolution NOT to run this year, ran with me for a bit out of the Granite Bay and Rattlesnake Bar aid stations. She ended up running around 15 miles on top of riding 25 miles early on in the race. These moments are priceless!
After 40 miles or so, I began to realize that I was actually going to finish this thing. And I began to enjoy the experience despite the pain and suffering. I was in a good mood the whole day, but especially so once I could smell the finish line.
When I finally caught sight of the infamous Dam Wall, I began to really just picture a nice juicy cheeseburger (or two…). That hill was certainly way too much to run up. When I got near the Last Gasp Aid Station, I was greeted by Joan and we headed up more hill. She kept encouraging me to run the "flat parts", but nothing looked flat. I was too tired and sore to run more than a few yards at a time.
At the 49 mile marker (1 to go!); I was absolutely jubilant. I posed for a picture by the sign. Two thumbs up of course! A bit farther, we turned off of the road we'd been mostly walking up, and I could now see the finish line and hear the announcer. It was almost time to actually celebrate!
Coming into the last half mile or so, I knew I had to run as much at the end as I could. I ran as fast as I could, to get the race over with. Finally, I came around a corner onto a grass field (that sure felt good on my feet!). Then I could see the finish chute and picked up the pace. And just like that it was done, and I had actually finished a 50 mile race well within the cutoff.
I collected my finisher's jacket and t-shirt and finally got that burger. I enjoyed chatting with Jerry, one of Joan's co-workers who I'd also run with briefly during the race. We hung out for a little before heading off to the car. As I hobbled down through the parking lot so Joan could pick me up, I was just amazed that my body had held out – it's amazing how quickly your body shuts down after one of these races!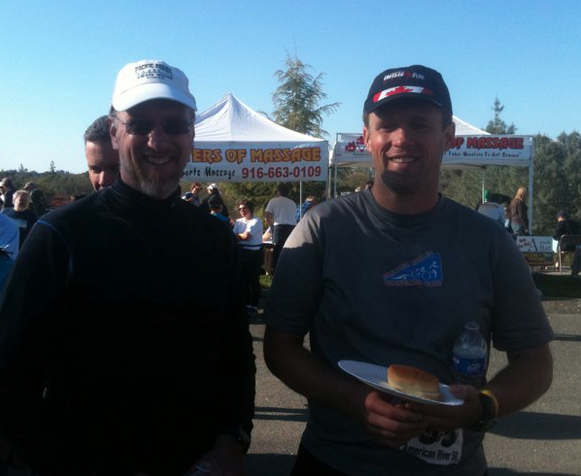 We headed out for the drive back home. And we stopped at Five Guys and Peets in Vacaville for a burger (second one for me!), fries, peanuts and a mocha (for me, Joan got a latte). After getting home I showered and settled in for a rather fitful night of sleep. Ibuprofen was the only way I could get some sleep!
My finish time was 11:16:53. I didn't make the cutoff for qualify for Western States. But perhaps that's a blessing in disguise. As my dad said, now I don't have to attempt that one too…
And yes, the grass is greener on the other side!